Our partners had some great performance results in April, with a +9% uplift in new revenue month on month across the board.
COVID-19 restrictions are easing up and offline interactions are now higher than ever throughout the UK, to everyone's great relief!  This hasn't affected online user activity, with a surge of traffic in our UK territory leading to a +8.2% increase in registrations and +11% increase in new revenue.
Other notable network increases were seen in Canada with an incredible +21% uplift in new revenue. Our casual BDSM niche boasted a fantastic +11.4% uplift in conversion rates month on month in Canada! Reach out to your account manager for more opportunities in this network whilst utilising our top casual niches on our Excite platform!
Partners continue to boost their campaigns and revenues in the US, with +10% growth in new revenue across all platforms. There is a vast array of niche interests that perform well in the US. Let our team help you refine your targeting and give you the low down on which niches work best for each region of this large network! Speak to us here.
April Affinity Highlights
Our Affinity platform produces web apps and sites for people who are looking for that meaningful relationship. Many of our in-house mainstream brands are undergoing trials of our new Next-Gen Platform. Our AUS network seen fantastic results in April on our Affinity platform, with +16% growth in new registrations and +12% in new revenue month on month!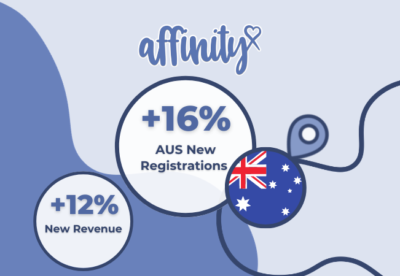 April Excite Highlights
Our Excite platform is perfect for partners looking to promote or build a Web App primarily focused on hookups and more casual fun. Our Progressive Web Apps deliver easy interaction  and has a broad range of appeal to a wide spectrum of users. Both our UK and US markets delivered a +11% increase in new revenue for our partners on the Excite platform!