Record Breakers!
August saw our platform growth continue unabated and deliver a record breaking month for revenues. We want to extend a HUGE thank you to the hard work of our Partners, Product Development and Customer Support teams as we RECORD REVENUES exceeding any since month in our 14 year history. Working alongside our partners, we are excited to see even more records be broken soon!
Malaga Partner Conference
Last week we held our semi-annual Partner conference. This was a great opportunity for our major Partners to meet, gain insight into new product developments and new marketing opportunities to further expand their business. We would like to thank each of you who came to the conference. The feedback to date has indicated that Partners find the information gained at these events to be very valuable for their business. As a result we are delighted to confirm the date of our next Partner Conference will be March 19th to 20th.
The event will be held at Iberostar Anthelia Hotel & Resort, Costa Adeje, Tenerife.
Mainstream Affinity Platform Update
Since launching our promotion of the Affinity platform in March in the UK we have seen a massive growth of registrations of 584%. This huge surge of activity along with product updates has helped to improve the conversion rate (free to paying members) by over 65% since the launch of our campaign. Our UK revenue has grown by 627% since March of this year and is truly open for business now. Our key Affinity niches are all converting at between 6-10% and our cross sales are further boosting revenue per user values.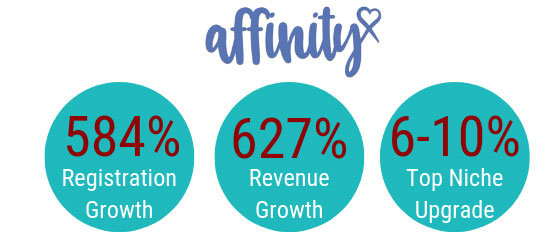 Contact your Account Manager about how to setup high profitable campaigns on our Affinity Platform today.
Calling all Surfer Dudes & Nerds!
Based on the success of our UK campaign we have launched a new growth incentive for the USA. We are offering 100% revenue share payout on all Affinity sites for the next 6 months (until March 1st 2020) in our Outdoor and Gamer/Cosplay niches. These niches offer great marketing scope for a range of recreational activities that people can have in common from hiking and surfing to gaming and super heroes.
We already have sites with conversions to paid of 8%-11% for these interest areas in the USA and recommend you start promotion in California, New York, New Jersey, Florida & Texas for the best traction out of the gate. Get your campaigns ready and may the force be with you!