According to UK Finance, there was a 20% increase in bank transfer fraud linked to romance scams in 2020 compared to 2019. In recent months we have improved our anti fraud system and protocols by leaps and bounds to take action against scammers. More than ever we are committed to the safety of our members and we are pleased to share some of the results.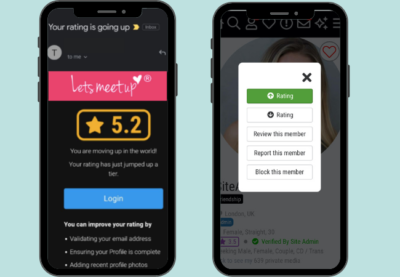 In late December we launched our Member Rating Feature across our casual dating platform. This was designed to not only increase member interaction but to detect and remove suspicious member profiles that display strong traits of scammer behaviour.
In a five month period prior to the feature launch we took action against 97k accounts. After releasing the Member Rating Feature we detected and removed 30k accounts in January alone, a 54% increase against the average of the previous five months. These figures represent a very small % of users across our platform.
Combined with our established 24/7 Customer Support Team and online member tools, we believe this feature will give us the competitive edge needed to fight online fraudsters. We also regularly provide our communities with resources for the best tips and advice for staying safe whilst online.
Since the launch we have seen our customer chat satisfaction rating increase by 20%, with all members of our Support Team completing further training and increasing the availability of our online chat team.
Several other new methods have been implemented into our anti fraud system over the last couple of months. Since the start of the year, these new methods have reduced the number of messages sent by a suspicious profiles by approximately 10% before they are identified and removed. We are delighted at the progress being made in this area and we predict to be in an even stronger position against dating fraudsters in the coming months.
To meet just a few of the friendly faces behind our expanding Support Team, click here.